September 15, 2020
Home Bar Ideas
Every man's home is his castle, and it's essential to create a living space that perfectly suits you and send a powerful message to every visitor.
Having a home bar could make you love and appreciate your home much more, because you won't have to drive into town just to get a glass of wine or a bottle of beer. You can also make your home the exact place to have fun with your friends.
If you'd love to have a bar in your home entertainment area, this article will help you design and create a wow-factor home bar.
Home Bar Ideas That'll Make Your Home Elegant
1. Go Black and Bold
Black has always been known as bold. If you're in the search for a hue that can instantly lift your home bar area, then black is the one you'll have to go for. The sleek black paint and mirrored tiled backsplash will leave your home bar with a sleek and luxurious feel. Painting a dark color to your home bar is a cheap and simple way to give it a glamorous feel close to a real bar.
2. Hang Your Bar on the Wall
This lovely idea is ideal for someone lacking plenty of floor space but also wanting to bring a bar into their home. This home bar serves also as a wall decor. With smaller houses, concepts and designs for home bars have become even more creative and innovative. Free up space on the floor by adding a home bar on the wall. Use your imagination to create the best wall house bar that matches your taste and personality.
3. Use the Wine Racks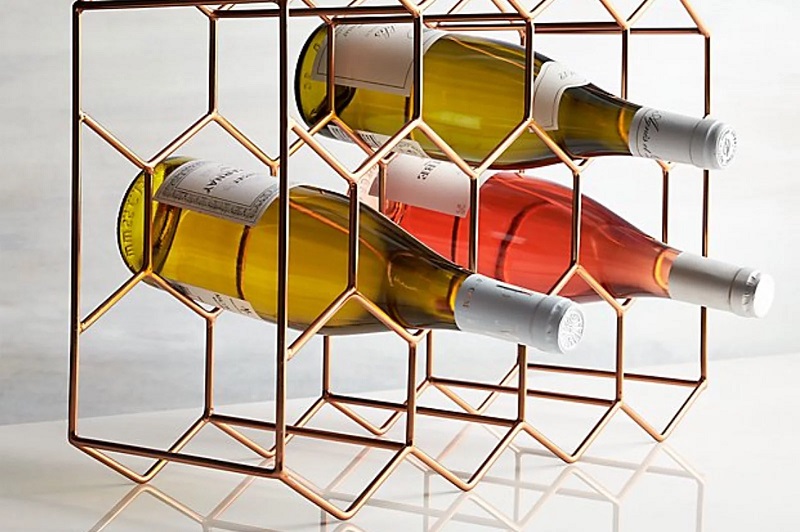 This is a functional, elegant and well-designed minimalist bar style. This will give you room to tuck away wine, glasses and more. Choose a nice bar nook, and make sure you can quickly move and relocate this bar.
4. Plants and Wines Combo
You can make a refreshing, trendy and enjoyable home bar with the garden inspiration! Create a bar at home that will meet both your gardening needs and let you enjoy your favorite cocktail. Preferably, go for one fitted with a refrigerator, plenty of counter space and a shelf. Just lounging in this beautiful room will please your guests.
5. Add Lighting
The right kind of lighting will make all the difference in the bar. It can create the perfect mood for your bar at home. Layering the lighting is simple enough to do, and begins by concentrating on various types of lighting, then building on each type to complement the other. Light options include recessed lighting, track lighting and wall-mounted lighting.
6. Pull-Out Drawers
This mini home bar is getting a huge plus because of its compact style and convenience. The pull-out drawers, make up for their size, maximize the storage room available without compromising convenience. The bottom drawer is best for the big bottles, the top drawer for the shorter ones and the top shelves for glasses, carafes and other supplies for the bars.
7. Bar underneath the Staircase
Can you imagine your wine bar under the staircase? This is an opportunity to make better use of the space underneath your stairs. The countertop of black granite sets the moody vibe, while the colored wall gives rustic and charming appearance. The bar comes complete with bottle racks, mood lighting and a spacious fridge.
8. Hidden Bars
Hidden or secret bar designs are getting pretty popular. This is a very discreet bar for your home but easily within reach. Hide your home bar with a fake wall that serves also as a cabinet door or blend it in with the background paint color. This fake wall hides a convenient bar with an elegant service counter, hundreds of your favorite drinks and plenty of glasses for you and your guests.
Home Bar FAQs
How big should a home bar be?
When talking about a home bar size, the average size would be 42-inch high and 24-inch long. But you can still customize the home bar to fit into the available space.
Where do you put the bar in the house?
This is one of the first decisions you'll need to make when you build and design your ideal home bar. Some of the areas more popular include the kitchen and the dining room. But also the basement and living room are becoming popular as these are places that many people choose to entertain.
What home bar furniture should I get?
There are many different pieces of furniture you can get to complete the design depending on the size and location of your bar, including bar stools, bar cart and even a dining table. Otherwise you can use open shelving or a smaller bar cabinet instead of a full-size bar counter if you have limited space.
How much space should you have behind a home bar?
Give the bartender at least 36 inches of space between the bar and the back bar or wall to make mixed drinks, entertain and keep the guests satisfied.
Are wet bars out of style?
If you're looking for a more luxurious home-style bar then a wet bar won't be perfect as they are more of an outdoor trend than an indoor trend.
Conclusion:
There are different options and ideas to consider when you think of making a home bar. Make sure that whatever design you choose to get for your home doesn't get too expensive for you to handle. However, you should understand that the design will speak volumes and it should induce so much joy and fun for you and your friends.