September 12, 2020
Best Bathroom Flooring Ideas for Every Luxurious Home
Best Bathroom Flooring Ideas: Your bathroom is one of the rooms in your house where you'll always go at the beginning of the day and surely visit at the end of the day.
Suffice it to say that this room deserves as much concern as you give to your bedroom. If you want to have a glamorous looking bathroom, then every bit of detail matters including the floor. In fact, you cannot even overlook the floor of your bathroom.
Your bathroom floor should be durable, easy to clean, and compliment your environment. Here are suitable bathroom floor options for your home.
Best Bathroom Flooring Options
1. Marble floor
In terms of class and style, a vibrant and cheerful bathroom requires a floor that suits the decor.
This stylish & classy marble floor is preferred around the globe as it is a very high-quality rock and unique in its patterns and coloring compared to others.
2. Glass Tiles
A glass floor tile's artistic and aesthetic appeal is double: covering part of the floor with a thin layer of glass provides an illusion of depth and a stunning stained - glass look when tinted.
This form of the tile if properly installed holds up well — just be sure to pick textured glass to avoid being slippery. With plenty of grout joints, glass tiles are slip-resistant.
3. Natural stone tiles
If you need a special and natural look, then stone tiles would be a great choice for you. They are durable and even when scratched, can be polished.
Stone tiles in traditional homes are popular, durable, and available in varieties such as slate, granite, travertine, and other depending on the quality of finish required as it was from the beginning of time.
If the bathroom is likely to remain damp and wet due to lack of windows then it is best to apply textured tiles that will not become slippery even under these conditions. These tiles are timeless and elegant that can withstand temperature fluctuations better than others.
4. Porcelain tiles
Although porcelain tiles are a bit expensive they enhance a bathroom's luxury quotient with its finish and rough looks. These tiles on the floor and wall intensify the luxury in this minimalist bathroom where space adds a luxurious dimension to the city, even if the roof is slanted.
Porcelain tiles are stronger and longer lasting than granite which makes them durable and lasts for many decades. Its stain-resistant powers make it easy to clean and preserve the bathroom floors.
5. Concrete floor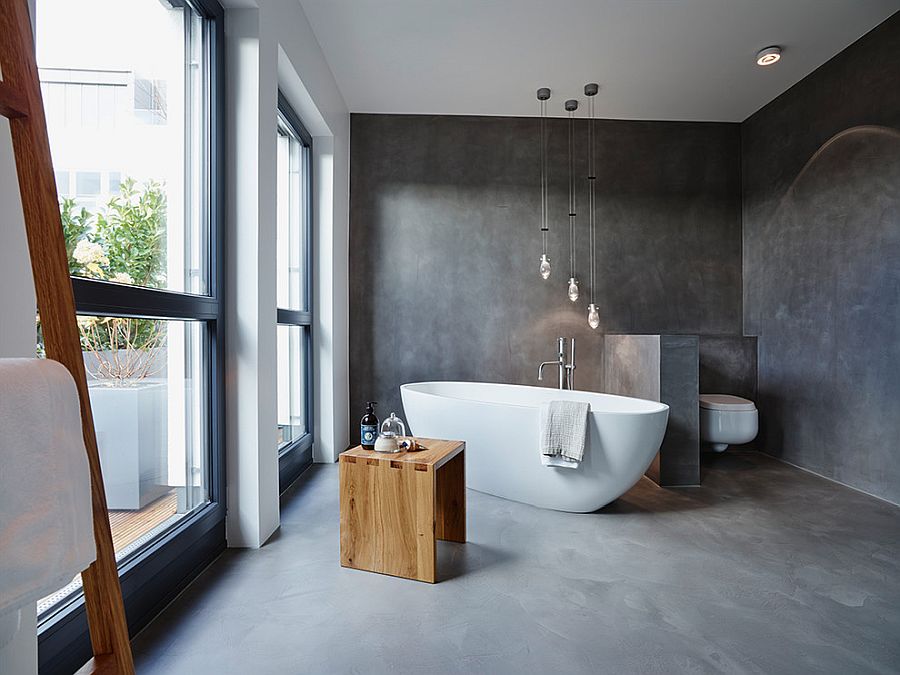 Concrete is the most cost-effective bathroom flooring choice used before tiles became popular. In addition to providing the bathroom with a rustic touch, this material is resistant to moisture and keeps the floor free from germs which are very important. Since concrete is dark in color, it is best to have a softly toned wall that can brighten up the place.
6. Wooden Laminate Flooring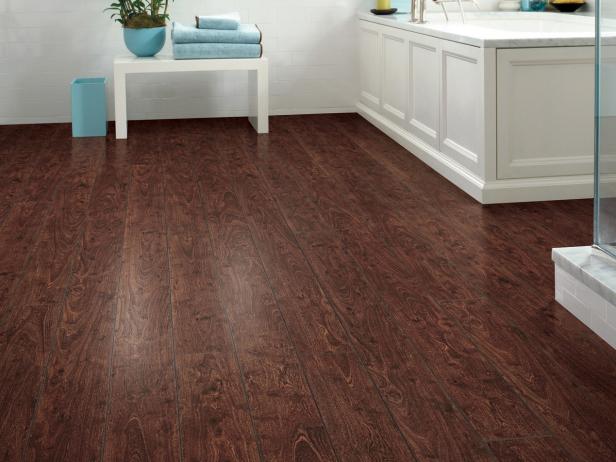 Most modern homes use wooden laminate flooring because it provides simple maintenance and also adds warmth to the layout of the space too. The installation of floating wood or laminated wood tiles is extremely simple.
Floating Wood Tile is relatively new and is made of a synthetic material, which gives it a laminated wood look. The only downside of this flooring is that when it's wet it can be very slippery.
Alternatives for a Bathroom Tile
Over the years, tiles have long been a popular option for bathroom floors. However, If you're looking to mix it up a little with alternative bathroom flooring materials, here are a few options to consider:
1. Acrylic Panels
The acrylic shower panels give your shower a smooth and seamless look. These hardwearing acrylic panels have been lined with glass fibers. There is less risk of water damage and leakage along seam lines and into the foundations of your bathroom due to their seamless design and creating an eye-catching wall feature.
Acrylic is an excellent choice for shower material, since denting, scratching, or cracking is difficult. It is completely water-resistant and stain-resistant. On or behind the panels, too, there is little chance of mold formation.
2. Paint
Paint is a simple and relatively inexpensive way to add a color pop to your bathroom design. It permits unending creativity. There's advanced paint that's moisture-resistant, steam-resistant, and wipe-able so you can be artistic in your bathroom.
3. Stone Resin
Stone resin is extremely solid, robust, and stylish, and it is a great alternative to shower floor tiles or shower wall tiles. It will last a lifetime and the original investment is definitely worth it, considering that you will never have to redo your shower.
It is 100 percent resistant to crack, scratch, scuff, and mold, and provides a warmer feel on the feet as opposed to other materials that are ideal for those cold winter nights. Ensure a textured stone is selected to avoid slips and injuries.
4. Ceramic Flooring
Ceramin flooring is a modern waterproof floor that is durable, robust, and waterproof. It was built made and designed to substitute for natural stone and ceramic tiles.
These tiles are made lighter and simpler to deal with by mixing polypropylene with natural materials. They can be mounted on walls and floors to give a uniform look to the rooms.
5. PVC Sheets
This is one of the most economical choices for shower material on the market these days. PVC is also hard-wearing, fully smooth, and doesn't cause the panels or the shower unit to develop mold.
If you have recently listed your home for sale and are searching for a bathroom to be renovated, PVC is the perfect choice without breaking the bank! PVC is a perfect way to add a splash of color and fresh feel to your bathroom and is inexpensive to buy and install.
Flooring to Avoid in the Bathroom
1. Wall-to-Wall Carpeting
Since carpeting retains moisture for so long, it appears to slowly dry out inside the confined bathroom spaces. This makes carpet a bad choice for the bathroom flooring.
If you want to have a carpet in the bathroom, though, make sure that the pile is low and that the material is 100% inorganic, like olefin or nylon.
2. Solid Hardwood
Solid hardwood has little protection against moisture, except for its top coating. It will gradually rot out when the slightest amount of moisture that makes its way into the wood. If you truly want solid hardwood in your bathroom make sure it's built completely, with zero moisture gaps.
Related Topic: Positive colors for a joyful home
Conclusion:
There are plenty of bathroom flooring options choices, offering you plenty of new, exclusive designs and trends that are sure to be in existence for years to come, ensuring you have endless possibilities.
However, your comfort and safety matters, so, you should always go for the best. Always make your bathroom as beautiful, stunning, and perfect as you are.